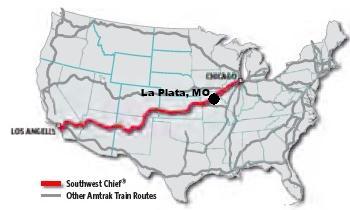 Amtrak Southwest Chief
The Amtrak Southwest Chief® provides daily passenger rail travel between Chicago, Illinois, and Los Angeles, California, with major cities along the route including Kansas City and Albuquerque. The route of the Amtrak Southwest Chief® has a stop in La Plata, Missouri, the home of the American Passenger Rail Heritage Foundaton (APRHF), an Exhibition of Amtrak History, the Rail Lookout Cabin & Deck, and the Depot Inn & Suites in the heart of Silver Rails Country.
Note: Amtrak® is a registered trademark of the National Railroad Passenger Corporation. This is an Amtrak® fan site. Use of any trademarks™ or registered® trademarks on this web site does not imply any affiliation with or endorsement by the National Railroad Passenger Corporation.
The staff of TrainWeb and volunteers to the American Passenger Rail Heritage Foundation have been posting rail travelogues, photos and other information related to Amtrak to these APRHF Train Web Sites since 1996. You should always check with Amtrak for the latest schedules, services, equipment, etc. Information posted on the APRHF Train Web sites might not always be up to date, especially from postings that may be from several years ago.
| | |
| --- | --- |
| | Photographing TRAINS Vol. 1 Amtrak's Southwest Chief by Carl Morrison (Kindle Edition) First in a Series of Long Distance Amtrak Train Photography Guides. This book tells you where and how to make great exterior and interior train photos along the route of the Amtrak Southwest Chief Los Angeles - Chicago. . This eBook includes tips for taking photos, not only of the Southwest Chief, but of tourist trains, rail museums, and private rail cars close to the Southwest Chief route. Carl gives many suggestions as to where to eat, and where to stay along the way. Includes over 350 photos by the author from over 20 trips on the Southwest Chief to illustrate proven photo concepts. All Photographs and Text, except where noted, By Carl Morrison... Read More>> |
| | |
| --- | --- |
| | Nov 7, 2015 Latest Outside the Rails book includes glimpse of Galesburg The authors of "Outside the Rails," a series of informational guides about the Midwest's passenger train routes, visited The Galesburg Public Library Saturday afternoon for a presentation and book signing. Each of their books follows a specific train route, providing pictures of local attractions and factual information; their most recent edition, which follows the route from Chicago to La Plata, Missouri, includes information about Galesburg... Read More>> |
Following the below links leads to far too many travelogues, photos, and other information to view in just one visit. Be sure to bookmark this SouthwestChief.com page to make it easy to return to enjoy all that has been posted here by so many Amtrak rail travelers!
Latest
Amtrak Southwest Chief
Travelogues & Photos:
Please click to visit each of the following
Amtrak Southwest Chief® Pages:
TrainWeb / Amtrak / Wikipedia / RailPassengerUSA.com
Friends of the Southwest Chief
Live Streaming RailCam (Amtrak Southwest Chief Station in La Plata, Missouri)
Route Guide / Outside The Rails / Railroad Radio
Towns & Cities Along The Route

Travelogues & Photos:
(listed alphabetically by first name)
Carl Morison / Chris Guenzler / Dan Chazin / Darlene Banning / Dutch Myers
Geno Dailey / Henry Kisor / Jack Turner / Lauraine Symons / Matt Melzer
Ray Burns / Steve Grande / Steven Reynolds / Tim Helmuth / Tony Escarcega / Others
Slide Shows: 2006 CHI-LAX / 2012 FUL-LAP / 1997 FUL-CHI
Photos by Lorraine Symons: 2006-Jan-18 / 2006-Jan-27 / 2006-Jan-29 / More

First trips to Silver Rails Country in La Plata, Missouri,
via the Amtrak Southwest Chief® with extensive photos:
Ray Burns / Steve Grande
Advocacy:
Save The Chief! (PDF Color Flyer)
COLORAIL (Facebook)
Colorado Rail Passenger Association (COLORAIL.ORG)
Southwest Rail Passenger Association (SWRAIL.ORG)
Amtrak Southwest Chief Re-Route Coalition (Facebook)
Arizona Rail Passenger Association (AZRAIL.ORG)

Click Here for the Current Location of the Amtrak Southwest Chief®
(See boxes labeled "3" [west] and "4" [east])
Due to planned abandonment of tracks on a segment of this route by the BNSF railroad, an alternate route is being considered for this train which could end service to a number of towns along the route. Such a change would also terminate travel over some of the most historic and scenic rails. These changes are a topic of hot debate by the towns and states that could lose service, by the towns and states where the train would be re-routed, and by both train enthusiasts and passengers who rely on travel by the Amtrak Southwest Chief®. News items related to the proposed route change as well as all other news related to the Amtrak Southwest Chief® will be posted to the Facebook Southwest Chief Page. Please LIKE this page on Facebook and join the discussion!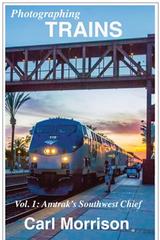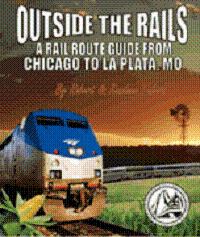 Note: Southwest Chief® is a Registered Trademark of the National Rail Passenger Corporation (NRPC / Amtrak®). Please click here for information regarding use of the SOUTHWESTCHIEF.COM domain name by TrainWeb.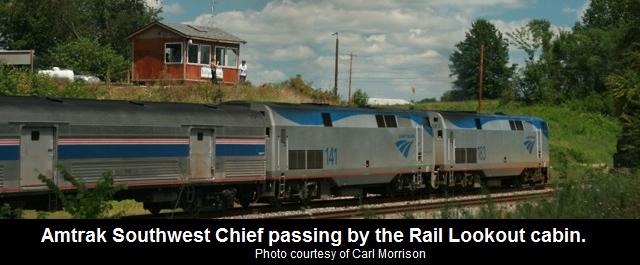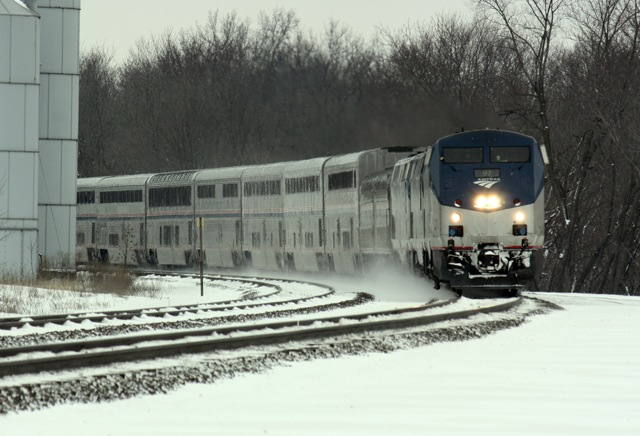 Amtrak Southwest Chief® Photo couresy of Carl Morrison (TrainWeb.org/carl)
TrainWeb Hosted Websites Related to the Amtrak Southwest Chief:
★ Lone Wolf and Santa Fe Railroad
www.trainweb.org/lonewolfsantafe
Baseline page visits as of April 21, 2014: TrainWeb.com: 54,328,568 SouthwestChief.com: 45,059
Visit our Rail Magazine promotion trading partners:
Click here to add your print rail magazine.