Train Derailments
And Other
Railroad Related Incidents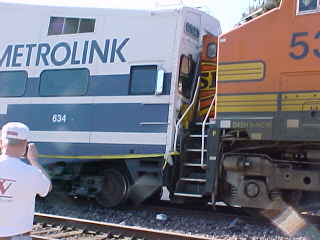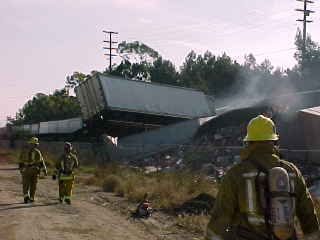 Information and photos related to train derailments and other train related mishaps. This page is a good source to turn to when you want to find out more information on a recent passenger train derailment or other railroad mishap. Please feel free to post your own links related to railroad incidents by clicking here to go to the Derailments.com Facebook Page.
TrainWeb.com generally does not post collisions between trains and vehicles or pedestrians on its main page as it would provide a misrepresentation of the safety of rail travel. For comments on the safety of rail travel, please CLICK HERE. Instead, this website is where we post all news related to railroad derailments and other mishaps. You are welcome to post your own links, comments and photos related to train mishaps here also.
---
The derailments.com domain name is available for purchase. Click here for more info or to make an offer. The amount listed is the "BUY NOW" price. Please feel free to submit a lower offer for us to consider. Purchase of the domain name does not include contents of the website.
---
Derailment Slideshows: Metrolink Nov-18-1999 / Metrolink Apr-23-2002 / Amtrak
☆☆☆ Railroad Crossings by Brett Wirick - Train Derailments Section
www.trainweb.US/brettrw



| | |
| --- | --- |
| | www.trainweb.US/brettrw - Railroad Crossings by Brett Wirick has been developed to help the railfan enjoy the western railroading scene. To make this easier, pages are developed following the host railroads own breakdown of its track, IE by subdivision. This segmenting applies mainly to the UP and BNSF, the dominate railroads in the west. In all cases, pictures and information are disseminated following a geographical format. This should help you to locate and duplicate what you find here on-line during your next trip... Read More>> |



Other sources of derailment information and photographs:

At this time, the main focus of this page is passenger train derailments in the United States and Canada. As time permits, we will try to expand the information on this page to cover other areas of the world and information on freight derailments. Some time in the future, we hope to add more data related to the history of derailments.
George Black, a member of the National Transportation Safety Board, said investigators are impressed with how the double-deck Superliner cars remained intact even though they were pounded with massive forces. Unlike airliners, which are built of lightweight aluminum and composite material, rail passenger cars are built of heavy steel. This factor alone often prevents deaths or major injuries in even high-speed train wrecks. "The good story is that the cars stood up like champs," Black said.
-- Washington Post, Sunday, April 21, 2002, Page A10
Visit our Rail Magazine promotion trading partners:
Click here to add your print rail magazine.